MCS-GLOBAL www.mcs-global.org
Global Campaign for Recognition of MULTIPLE CHEMICAL SENSITIVITY/Chemical Sensitivity/chemical injury & other chemically induced illnesses, diseases & injury affecting civilians & military personnel
The above image is an acrylic and 'palette' knife painting of the Eildon Lake (or "Lake Eildon") Spillway, backlit by bright early morning light and low clouds rising from Lake Eildon behind it. The mountains and hills surrounding the township of Eildon were for me a continuous melting romance that I participated in daily as I grew up amidst its incredible beauty. Mercurial mists, towering mountains (to a child anyway) clothed in all the changeable colors of the year, and the sullen wetness of the Eildon Pondage blanketed me in heart-tugging inspiration day in and day out. I count myself very fortunate to have grown up in such a beautiful environment.
As such, my love affair with nature started here and inspired me with a perpetual fondness for Australian art. Mist rising from Lake Eildon, and in the valleys and twists and turns around the Eildon Dam and Eildon Pondage in particular (and especially their adjoining surrounding hills - a constantly changing patchwork of colour), and then other gorgeous places in my travels such as Glenorie, the Great Australian Bight, and the remarkable Tasmanian wilderness, have all added imagery and hues to my memories that -- as I now see -- favours an ageing artist with a wealth of material for the taking. A never-ending parade of possible landscapes and views always beckons, and at times one must stop and drop one's jaw in worship at the feet of nature. However, for all the details and all the colours that demand attention in every moment's gaze upon the natural realm, the melting romance of mercurial mists must remain my favourite mix of light and atmosphere and metaphysics. Here, the airy and heady heights of the New England National Park, the more earthy strains of Gundagai flat-scapes, the windy and woody Goulburn River, and the marvellous blue sapphires of Port Stephens all offer different and similar aspects of Australian Art: hills and their patterned gum tree clothing, light, half-light, mist, water and even those 'nether region' seascapes (to my 'mountain man' mindset...) thrown into a classic mix of nature's infinite best.
The images in the slide show represent either paintings created from my personal photographs, or interpretations of particularly beautiful photos from books. Some paintings are composites (that is, they include elements from many sources). All represent an interpretation of what is seen, sensed and wanted. I provide good quality resolution images for these paintings. All unsold paintings (what there are of them) are available to galleries for hanging or for private purchase. As well, I will consider any request to paint any scene, including one supplied by the customer. In this respect, you may email me a photo for consideration. I will not, in most instances, produce another painting like these displayed. I generally choose not to attempt to resurrect an image, but prefer to leave what I have produced as a testament to an unrecoverable point in time, never to be revisited. This overall sense includes the romance of the image,and the melancholy of younger days with fewer aches and pains. If I do choose to reincarnate an image, it may be similar, but never the same.
In some cases, particular scenes become favorites. In this respect, then, I have painted these scenes more than once. In the character of many artists, I may paint a scene from photos I have taken at different times of the day, and from varying angles. Sometimes, though not often these days, I will paint on location.
I do not produce many paintings these days. I am generally disgusted at the habit of artists for locking onto a style and churning out as many of these 'technique' paintings as possible. I do appreciate the poverty of art, and the need to put food on the table though, and I have been guilty of generating rubbish in my much younger and less sophisticated days. However, in nearing 50 years of age, I am using other talents to generate income, while my art is reserved for special times and very unique paintings. I only do around 3 paintings per year now, and will often spend many months on each, as well as interminable time analyzing each image. Quality is my only concern now. And that quality includes the necessary legacy of idiosyncratic images that largely express my soul, even much more than the image reflecting an actual place in space and time.
If you open this LINK, you will be taken to a page displaying all the thumbnails from the above Australian Art slide show. This page provides informational details for each painting.
A link to a second sequence of images, the Masters Reproductions, will again take the reader to one page holding both the thumbnails in a column on the left side of the page, and the corresponding main images which are displayed on the right, as indicated in the graphic immediately below. Here is the LINK. These images are of both my sold and unsold Masters Reproductions paintings, these being acrylic and oil copies and interpretations of famous paintings by artists such as Hans Heysen and Frederick McCubbin.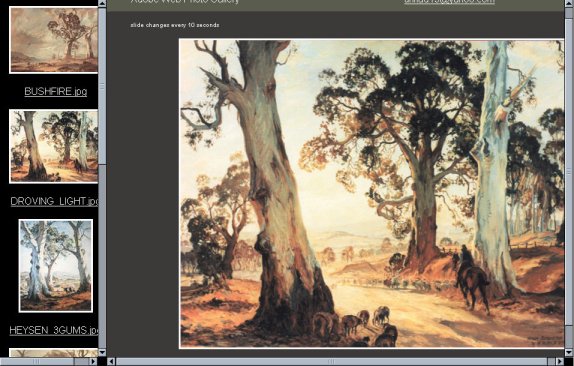 The above image is that of Hans Heysen's Droving Into The Light, (1921). It is an acrylic painting, and likely the very best copy of any I have done.
If you open this LINK, you will be taken to a page displaying all the thumbnails from the above Masters Reproductions slide show. This page provides some additional informational details for each painting.

© Copyright 2011 Murray Thompson
PO Box 605
New Norfolk
TAS 7140
Australia